Baby Steps (Song)

CD Cover

 | 

Screenshot

Artist
Babyraids
Starting Episode
Episode 1
Ending Episode
Length
1:30

((TV Version))

Release Date
May 14, 2014

Ending Song Guide

← n/a
Yume no Tsuzuki →

List of Music
Baby Steps is the first ending song of the anime, which is sung by the five-member idol group Babyraids.
Characters in Order of Appearance
Edit
TV Version
Edit
放課後とオレンジの空
また明日ねって手を振って
帰り道にひとりきり

手を伸ばせば遠くて
取り残された夕焼け
今もちゃんと覚えてる

夢を見て 追いかけて
気が付けば 日も暮れて
それでも 頼り無い足取りで
踏み出せる

何度も何度も
転んで泣いたっていいんだよ
あの日の誓いと あふれる思いが (夢を描いて)
ここにある
明日も明後日も
夜明けが街を照らしてく
昨日に負けられない今日を
重ねてく
ちいさな歩幅で
Houkago to ORENJI no sora
Mata ashita nette te wo futte
Kaeri michi ni hitorikiri

Te wo nobaseba tookute
Torinokosareta yuuyake
Ima mo chanto oboeteru

Yume wo mite oikakete
Ki ga tsukeba hi mo kurete
Sore demo tayorinai ashidori de
Fumidaseru

Nandomo nandomo
Koronde nai tatte iinda yo
Ano hi no chikai to afureru omoi ga (yume wo egaite)
Koko ni aru
Ashita mo asatte mo
Yoake ga machi wo terashiteku
Akinou ni makerarenai kyou wo
Kasaneteku
Chiisana hohaba de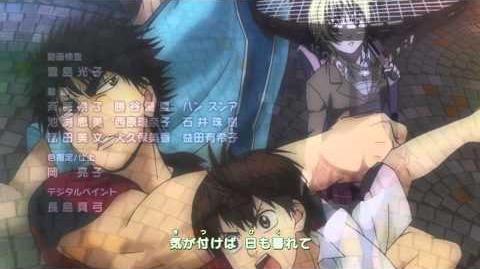 Ad blocker interference detected!
Wikia is a free-to-use site that makes money from advertising. We have a modified experience for viewers using ad blockers

Wikia is not accessible if you've made further modifications. Remove the custom ad blocker rule(s) and the page will load as expected.