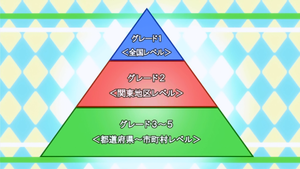 Tennis Tournaments within Baby Steps introduce a grade system ranging from 1 to 5. A grade 1 tournament such as the All-Japan Junior Tennis Tournament will feature the top players from all over Japan and the winner will become a wildcard for known professional tournaments. On the other hand, Kantou Junior Tennis Tournament are under grade 2 while prefectural and regional tournaments range from grade 3 to 5.
Known Tournaments
Edit
None known at the moment.
None known at the moment.